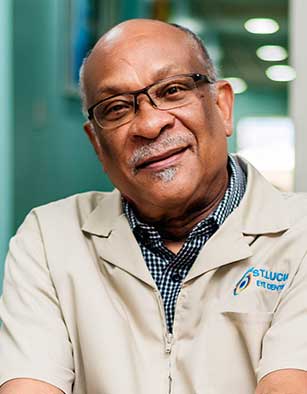 Ophthalmologist & Founder
A native of St. Lucia, Dr. Emsco Remy has a passion for providing eye care to all St. Lucians. He was one of the pioneers in complete eye care on the island and introduced cutting edge technology, including laser surgery to St. Lucians. He still retains a thriving practice and has performed many operations to correct squints and cataracts. He is ably assisted by another ophthalmologist, an optometrist, and dedicated staff that continue to provide premier service to all patients.
Dr. Remy received professional training and certification in ophthalmology in Israel at the prestigious Hebrew University in Jerusalem. Before that, he spent three years training in St. Lucia with final-year residents under the supervision of consultants from Harvard University's Mass. Eye and Ear Infirmary. He also spent one year training in the Eye Department of Queen Elizabeth Hospital (Barbados) and completed a stint at the University of Houston, Texas.
Dr. Remy has been a member of the St. Lucia Medical & Dental Council, a former President of the St. Lucia Medical & Dental Association on numerous occasions, a founding member of the Ophthalmological Society of the West Indies (OSWI), a member of the American Academy of Ophthalmology, and a member of the Society of Eye Surgeons. He was a pioneering member and First Chairman of Tapion Hospital (1994-1995).
Ophthalmologist
Dr. Font graduated from medical school in his native country of Cuba in 1997. He initially practiced as a general practitioner and then went on to do postgraduate work in ophthalmology, where he graduated as an ophthalmologist in 2007. Dr. Font has worked not only in Cuba but also obtained valuable experience working in China for 6 months, as well as Equador and Haiti. Dr. Font came to St. Lucia in 2011 as a consultant ophthalmologist at Victoria Hospital as part of the Cuban Assistance Programme. In 2013, after he completed his tenure at the hospital, Dr. Font started working with the family of St. Lucia Eye Centre and Family Eye Care. He has been an asset to the company and its patients from day one.